20 octobre 2012
6
20
/

10
/

octobre
/

2012
20:29

I was at the Agile Tour 2012 in Lausanne Friday 12th October. A good chance to meet up with former coworkers and take time to think about agility in a quiet place, far from my office in London.
There were around 60 attendee and 12 Speakers. The conference was in French but it was possible to talk to speakers in english. So far i have seen :
- "How use agility in general project" by Jean-Pierre Rey (HEVS Sierre) . How to use agility in projects that are not in IT sector.
- "Scrum Master, snakes and crocodiles" by Jérôme Perakis (We Can Live on Mars). How the Vivarium of Lausanne uses scrum.
- Workshop "Agile Dice" by Alex Cuva (Altran). How to calculate velocity.
- "How convert to agility a manager used to cascad fall?" par Léonard Bouchet (RTS). Where and why Cascade fall or agility can fail or succes. With an interesting concept of Agile semi-fail : When agile is use only by dev team but not all the company.
I prefer see there a semi-success, because It's probably the most common work environement of current agile pratictionners in IT and even in this case the team is often more efficient and motivated that in a full cascade fall project.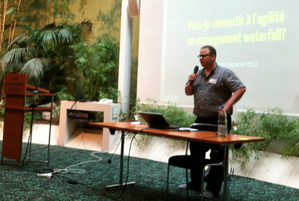 Léonard Bouchet - Agile Tour Lausanne 2012
Silvana Wasitova made a short presentation of Wiki Speed : a car developed by methods of fast-moving company software. Very amazing project with already some very good result. For example this car has recently passed a 5 star crash test in all direction.
Links :
Agile tour Lausanne : http://at2012.agiletour.org/en/lausanne.html
Wikispeed : http://www.wikispeed.com